Welcome CNA Customers!
At Clarion Safety Systems, we specialize in designing and manufacturing visual safety systems that are compliant with U.S. and worldwide safety standards. Our approach to business – much like CNA's – is to always strive to reduce risk and protect people. We see relationships with our customers as long-term partnerships of mutual benefit, something more important than ever in today's economy.
Why Partner with Clarion?
We bring expert knowledge of the ANSI and ISO standards, knowledge gathered during over two decades of direct participation on the national and international committees for safety markings. Then we add the Clarion difference: our experience helping more than 10,000 customers across 180 industries. We have unparalleled background to assist companies with specialized safety needs.
Why Clarion for Your Labels and Signs?
Clarion has been helping product manufacturers for nearly thirty years to create legally "adequate" warnings that use the latest standards-based criteria to effectively fulfill the manufacturer's duty to warn. Now that the OSHA and ANSI standards for facility safety signs have evolved to include the same design principles that govern product safety labels, it's time to update safety signs. Clarion's OSHA/ANSI Z535-compliant signs take advantage of our extensive experience designing safety label systems for equipment manufacturers – and our longstanding leadership on the ANSI and ISO committees that write the national and international standards in this field. By incorporating the most advanced symbols, color-coding and formatting principles into our products, you can be confident that your Clarion safety sign and safety label systems are state-of-the-art. What's more, having uniformity between the safety signs in facilities and labels found on products has an important benefit: consistency. When it comes to warnings, consistency means familiarity and increased comprehension, all of which are part of effective safety communication. And we can help you get there.
What Are Your Benefits as a CNA Member?
Free safety label and sign assessments: Because many of our customers don't initially know the full scope of safety and warning issues to consider, we provide safety labeling and signage assessments to our CNA friends at no charge.
Discounted pricing on labels and signs: All customers who come to us through a CNA referral are eligible for a 10 percent discount -simply mention CNAPRO10 when you order.
How Can You Get Started?
ANSI STANDARDS
Watch our short video to see how the ANSI Z535 standards use colors and signal words to convey severity levels on safety signs and safety labels.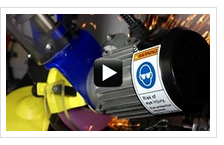 BEST PRACTICE SIGNS & LABELS
There's a science to how signs and symbols communicate, and it can make a difference in crafting effective warnings.