Welcome CNA Clients!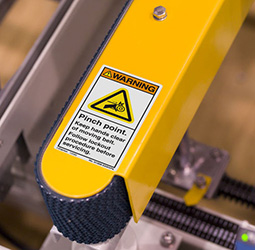 As a CNA Allied Vendor, Clarion Safety Systems is proud to be able to help you prevent accidents with safer equipment and workplaces. Our approach to business, much like CNA's, is to always strive to reduce risk and protect people.
We design and produce product safety labels and facility safety signage – along with offering complementary solutions and services like safety and risk assessments – to identify hazards and mitigate risks. Learn more about our company and solutions below – and reach out to us at any time to talk about your specific needs.
Why Clarion Safety?
Risks are everywhere: at work, on products, and in public places. With precise communication, people can better understand potential danger – and stay safe. Clarion Safety's standards-based expertise and holistic approach to risk reduction means that we're your trusted partner in safety. We specialize in risk assessment services and visual safety systems in line with today's latest best practices, helping to prevent accidents and lessen liability exposure. We bring expert knowledge of standards, regulations, and codes – from OSHA, ANSI, and ISO to CE, WEEE, RoHS, and REACH – and have decades of leadership experience on the top national and international committees for safety.
Our Safety Products and Solutions
Rely on our stock of fully customizable, best practice safety label and sign products – along with complementary solutions for machine safety.
CNA Member Benefits
We're pleased to offer CNA policy holders the following exclusive benefits:

Free safety label and sign assessments:

Don't know the full scope of safety and warning issues to consider? We provide safety labeling and signage assessments to our CNA friends at no charge.

Discounted pricing: Customers who come to us through a CNA referral are eligible for a 10 percent discount on our products and services. Simply tell our team how you heard about us or mention code CNAPRO10.
Getting Started
Visit the links below to learn more about our products, services, and safety resources. Contact our team today to discuss your needs!