[

Case Studies

For nearly three decades, we've made successful outcomes happen for countless standards-based safety sign and label initiatives.
At Clarion Safety, our passion is keeping people safe from harm. Our goal: helping our customers to make the world a safer place. Browse snapshots, below, to see our innovative sign and label systems in action – and to learn why Clarion Safety and our customers are so passionate about safety!
---
A Partnership to Identify Label Solutions and Opportunities
When a U.S.-based manufacturer of industrial safety gates used throughout the world faced challenges related to their warnings and markings, they knew they needed to turn to a credible source for help – one knowledgeable in helping product manufacturers create legally adequate warnings that use the latest standards-based criteria. Familiar with Clarion Safety's reputation in the industry, they asked to collaborate on labels for a safety gate product. The Clarion Safety team introduced our free-of-charge label assessment process, and through a tailored assessment, we helped to update our client's label design for improved risk reduction and consolidate their labels for efficiency and cost-savings. With these solid results, they plan to make similar updates across their full product portfolio of gate products. Continue reading for an in-depth look at our client's optimization story – and learn how our assessments may benefit your company and products.
Read More
---
Best Practice Designs for Labels at Jarvis Products Corporation
Jarvis Products Corporation, a meat processing machinery manufacturer, has a lot of dangerous tools in their facility that need to function properly, because just like any other industry, if they do not function properly, injuries start to arise. With that being said, a proper label is needed for each tool to prevent these injuries. Every tool that Jarvis uses daily is cleaned at night with a caustic solution. But, corrosion comes with these cleaning chemicals which is a major issue in terms of ensuring label durability and visibility. Jarvis chose Clarion Safety because of the material types offered, in order to keep the ink from deteriorating from the labels and also because of Clarion Safety's knowledge of the ANSI and ISO standards.
Read More
---
Safety Label Importance at Sturtevant, Inc.
Sturtevant, Inc., is a material-processing equipment manufacturer that builds crushing, grinding and air classification equipment to be used at food, pharmaceutical, chemical and mineral industries. The machines they build and create for these industries are very dangerous. For example, some of the machines are meant to crush materials such as rocks which can have dire consequences if people interact with the machines in unsafe ways. Sturtevant chose Clarion Safety to create best practice labels to help warn their product users of the dangers these machines could pose, all in the effort to increase safety.
Read More
---
Working for the Defense
There's a lot to know and understand (and clearances required) to develop safety markings for our armed forces. Clarion Safety routinely provides safety labeling systems for a wide variety of military equipment, including missile defense systems, aerospace intelligence equipment, and defense communication products. Clarion Safety works closely with many of the world's premier defense contractors, among them Lockheed Martin, Raytheon, BAE Systems, Boeing, Rockwell Collins, Northrop Grumman, NASA and General Dynamics - all of which produce products for the U.S. Department of Defense (DoD). Clarion Safety works one-on-one with design engineers at each of these companies to develop safety and identification markings that deliver critical information, conform to current specifications and meet exact design criteria. All of these contractors place the highest value on people, integrity and commitment to excellence. And, we are proud to say, all of them choose Clarion Safety.
Read More
---
Willoughby Aquatics Safety Innovation
Lifeguards for the City of Willoughby Parks and Recreation department were performing an excessive amount of "pull-outs" each year – where a swimmer had to be physically pulled from the pool. The department introduced a four-point plan, including life jackets, pool markers, swim lessons – and a safety sign system developed by Clarion Safety. The strategy resulted in a 55% decrease in pull-outs as well as being honored with Aquatics International's Best of Aquatics Award for Innovations in Safety. Learn more about this case study by clicking the link below.
Read More
---
Willamalane Park and Recreation District's Pool Safety Signs
For Oregon's Willamalane Park and Recreation District, a National Gold Medal recipient for excellence in the management of its five recreational facilities and 45 parks, safety is a key issue. At its Splash! At Lively Park swim center, the text-based, 'list of rules' safety signs failed to stand out or be engaging to the park's users. Willamalane worked with Clarion Safety to develop a pool safety sign system using best practice graphic designs and repetition of messages to effectively communicate. The result is a true "systems" approach to risk reduction using tabletop placards, signs in and around locker rooms, and poolside signs and cones. Patrons now have key information to avoid harm – often stopping to view signs throughout the facility.
Read More
---
Safety Sign Systems at GGB Bearing Technology
For GGB Bearing Technology, and across their worldwide production facilities, safety is a strong, core value. Management identified that signage inconsistencies at one U.S.-based facility needed improvement. Recognizing the benefits of upgrading to uniform designs and international symbols, GGB chose Clarion Safety to implement a best practice safety sign system, using the latest risk communication technology. It's being rolled out across different departments in the facility, creating consistency between accident prevention, egress pathmarkings, safety/fire equipment location, and company policy signs – with another U.S. facility working towards a similar upgrade. With unified, symbol-based designs and global consistency, workers, subcontractors and guests will be better protected from harm.
Read More
---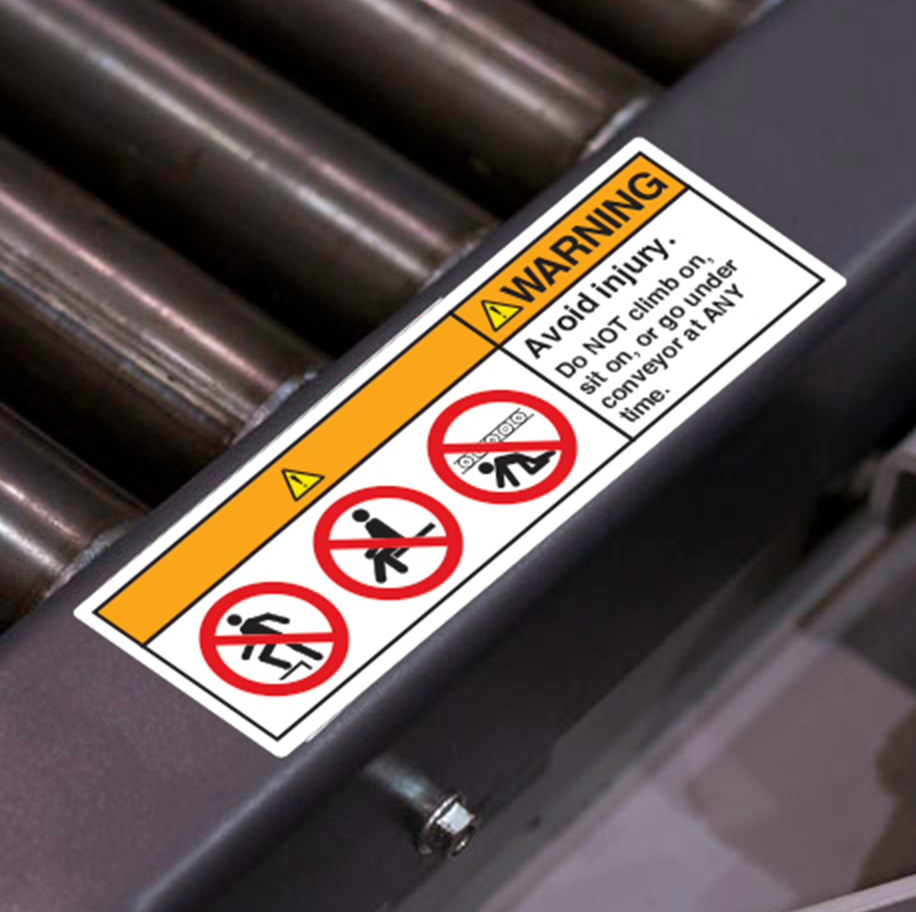 International Market Requirements for Labels at Conveyor Industries
Material handling equipment, like conveyors, are used in hundreds of industries worldwide. With energized moving parts and machinery, there's the potential for injury if equipment is used incorrectly. When a major, international leader in material handling and logistics automation decided they needed a global system of safety labels, they knew they couldn't rely on just any company, any printer, for the solution. Clarion Safety created and supplied an upgraded label program to meet international market requirements. We produced all-new label designs to meet current best practices – and unified labels throughout the company's divisions and markets. Now the company has a consistent, cutting-edge safety label system to better protect the people who install, use and service their conveyors worldwide.
---
Hawaii Beach Safety
Many people don't understand the potential hazards related to beach environments – everything from sharp coral to seriously strong undertow that can rip you from the shore. Injuries and deaths occur frequently enough that communicating safety is paramount for the country's beaches, especially the oceans and Great Lakes. Clarion Safety designed new safety signs for a large number of these hazards – signs meant to affect people's behavior so they can better avoid harm. Clear and concise language was used in conjunction with eye-catching ISO-formatted graphical symbols to communicate the most essential messages. Symbol elements were made predominate because of the necessity to convey safety information to the wide variety of international, often non-English-reading, people who visit beaches.
---
Eye-Catching, Standards-Compliant Safety Signs at Evergreen Wings & Waves Waterpark
From the start it was clear that safety signs would have to play a crucial role in keeping guests safe at Oregon's unique Evergreen Wings & Waves Waterpark: 70,000 square feet of aquatics activities with an aviation theme – including the only Boeing 747 airplane mounted on top of a nine-story building in the world. During the waterpark's construction, Clarion Safety developed a sign system to communicate the park's safety, hygiene and ride instructional messages. With our innovative approach, ANSI Z535 and ISO design rules were made to fit within the park's aviation theme. The end result is that guests have a more pleasant overall waterpark experience, and most importantly, they're better protected from harm.
---
Protecting People in Farm Environments
A yak ranch and agritourism destination in Michigan had a unique safety challenge. People would frequently stop to take pictures of the yaks, as close by as possible. If young yaks were near the fence, visitors (including children) would try to touch them. This presented a very real danger; yaks appear docile but can get defensive quickly – potentially goring visitors. Using state-of-the-art symbols, eye-catching color-coding and the latest ANSI Z535 and ISO design principles, Clarion Safety developed a best practice sign system to help warn about the potential hazard of yak attacks. Clarion Safety also suggested the addition of an orange-lined outer perimeter fence which visitors would be instructed not to cross, providing an extra measure to clearly indicate safe distances.
---
Safer Parks, Universities and Golf Courses
Many public and private premises in the southeast U.S., like parks, universities and golf courses, have problems with alligators. Most of today's environmental safety signs consist of text-only word messages not formatted to the latest best practice standards. Clarion Safety developed a safety sign format that uses the latest warnings technology: the ANSI and ISO best practice standards. The new signs include a recently-registered ISO safety symbol to warn about the presence of alligators. While the Clarion Safety sign was developed for golf courses, it can be used across a number of types of premises where the hazard of alligators is present – with the aim of helping to reduce the risk of accidents, and of liability exposure, should an accident occur.
---
Trip and Fall Protection in One of the World's Greatest Performance Halls
David Geffen Hall (formerly known as Avery Fisher Hall) at New York City's Lincoln Center wanted to protect against possible trips and falls of patrons in the balcony areas. Management worried that the building's glass exterior wall, which flooded light into the mezzanine area, combined with an elegant, dark brown carpet installed throughout the facility, could make it difficult for patrons to quickly dark-adapt from daylight conditions in the outer hall to the more dimly lit concert area aisles. The viewing condition to recognize steps could be particularly hazardous for senior citizens who more frequently attend daytime performances. The answer to the problem was to install quick-charging safety-grade photoluminescent stair nosings. Clarion Safety worked around the Center's complex performance schedule to complete the job in one day. Management now reports that their trip and fall worries are behind them.
---
Safer Aluminum Can Manufacturing
For nearly two decades Clarion Safety has been providing Lynchburg, Virginia-based Belvac Production Machinery, Inc. with safety labels for its state-of-the-art continuous motion rotary aluminum can-making machinery used by the world's top beverage can makers. "When safety regulations change, Clarion Safety immediately lets us know," says Belvac. "They continue to assist us with the design of warning and informational labels that comply with the most current ANSI and ISO standards. Also, when we place an order to replenish stock, they let us know of any safety symbol requirements that may have changed."
---
A New Safety Sign and Marking System for a BioPharma Leader
Bristol Myers Squibb, a major global biopharmaceutical company, launched a project to standardize safety markings throughout its entire 100-building headquarters campus in New Brunswick, New Jersey. Clarion Safety supplied state-of-the-art safety signs, variable lab door signage, valve tags and pipe markers for this huge project.
---
Improving Safety in Food Processing
ConAgra Foods is one of North America's leading packaged food companies, with a strong presence in U.S. and international consumer grocery, restaurant and food service establishments. Clarion Safety assisted ConAgra's grain processing/food division safety committee in developing replacement labeling and signage for plant equipment and machinery. The project used ANSI Z535.4 formats as a key element in improving safety communication and reducing injuries. Clarion Safety's customization capabilities provided an efficient means to create unique labels and signs that applied to ConAgra's specific context of use requirements. "The versatility of the Clarion Safety system enabled us to customize the labeling to the exact outcome we wanted for a wide ranging age of equipment," says ConAgra safety official Anthony Yount.
---
Helicopter Pads and Not-So-Dark Pathways
It's stressful enough for passengers to fly at nighttime in a helicopter and land on a rooftop helipad. But add in the stress which comes with emergency medical situations and you can understand why the safety professionals at Duke University Medical Center in Durham, North Carolina purchased photoluminescent paint from Clarion Safety to mark out the safe entrance and exit-to-building pathways on the rooftop surface. People now better negotiate their way to the emergency entrance and into Duke's patient care facility.
---
Ocean Crossings
Manufacturers of machinery who export their products around the world are well-aware of the ins and outs of shipping. But one thing they don't expect is what happened to Gribetz International, a major manufacturer of quilting machines for the bedding, textile and apparel industries (part of Global Systems Group – a division of Leggett & Platt, Inc.). Upon opening their packing crates at the other end of an ocean crossing, they found the safety labels they had purchased from their previous vendor lying useless at the bottom of the crates. It was then that they decided to completely re-evaluate their labeling strategy, from label content to durability. Working with Clarion Safety, Gribetz switched to a multi-lingual format that could be used across all product lines and for all company divisions. This label system strategy cut label inventory and installation costs dramatically. As for improved adhesion, Clarion Safety produces Gribetz labels using its standard "P" material – a material which has a top-of-the-line 3M adhesive that properly bonds to the surface of its machines to assure long-term adhesion. "Other vendors just printed what we gave them," says Gribetz. "Given Clarion Safety's involvement with the ANSI Z535 committee and ISO, and their strong relationship with 3M, we felt confident revising our entire label line under their guidance."
---
Symbols That Speak Volumes
Husqvarna is a Swedish-based, global producer of outdoor power equipment products exported to over 100 countries. Its product lines include outdoor chainsaws, brush cutters, hedge trimmers and blowers – all of which require safety warnings that can be understood by a worldwide customer base. Clarion Safety worked with Husqvarna's safety engineers and with an excellent consulting firm specializing in human factors, Applied Safety and Ergonomics, to develop a new warning label program that included 60 new product safety symbols. The program included the development of multiple symbol versions for each safety message, along with an intensive cross-cultural comprehension testing phase. Critical to the project was Clarion Safety's guidance in applying ANSI Z535 and ISO 3864 design principles to create symbols meant to convey very difficult concepts, like the need to hold a chainsaw with two hands, or the need to keep clear of obstacles (and people) when trimming brush. Husqvarna was greatly pleased with Clarion Safety's end results, which allowed the company to advance its ability to communicate safety across language barriers.
---
Safer Farm Work
Ontario, Canada's Ingersoll Tillage Group is a premier manufacturer of agricultural disc blade products, providing products for customers worldwide. One of its innovations is a portable system which enables farmers to regrind blades back to factory approved sharpness while they're still mounted on rotary disk tillage equipment. Ingersoll called on Clarion Safety to design various warnings to help assure this product will be used safely.
---
Cutting Edge Praise
Omax Corporation of Kent, Washington is a manufacturer of precision abrasive waterjet systems which are distributed to over 30 countries around the world. The company relies on Clarion Safety's expertise in domestic and international standards, as well as high-quality customer service, for its ongoing needs. Omax compliance engineer, James Moir, says, "Clarion Safety has assisted us in the application of both ISO and 'harmonized' ISO/ANSI Z535 safety labels, and with the translations of label text into multiple languages. The technical and compliance information we receive from Clarion Safety is always precise and up-to-date and the turnaround time on label design is nothing short of amazing."
---
Safe Routing
Family-owned, North Carolina-based, C. R. Onsrud is a world leader in advanced industrial woodworking CNC routing machinery – machinery that is designed with safety in mind. C.R. Onsrud came to Clarion Safety for the development of its safety labels with the specific goal of using attention-getting customized graphical symbols that would communicate safety at a glance, reminding those who use and service its equipment to stay clear of rotating blades, and that lockout/tagout procedures must be followed prior to maintenance. The finished labels, continually in use now on every router C.R. Onsrud has produced for nearly 20 years, have done their job of protecting people from harm.
---
Shoring Up
Pro-Shore, (now part of Paramount Builders Supply) a Richmond, California manufacturer of innovative decking and shoring systems for construction of multi-story buildings, had a need for customized warnings. They had developed a flexible shoring system that employs movable forms for poured concrete. These systems are typically installed by construction laborers, and thus, there was a clear need to communicate safety regulations and warnings to workers having various skill levels, paying special attention to the need to overcome illiteracy and language barriers. Clarion Safety was hired to do the job of designing new code-compliant product labels to convey the safety information that Pro-Shore had identified to appear on its products. "There was nothing like it," says Pro-Shore. "Clarion Safety provided us the direction, creativity and peace of mind that we had met both legal and safety requirements."
---
Working in the Trenches
For over 40 years, Illinois-based TT Technologies has manufactured trenchless equipment for the toughest below-ground jobs imaginable; this ranges from pipe pulling, ramming and bursting to guided boring and directional drilling. The standards-compliant warnings that Clarion Safety provides TT Technologies for its equipment are exposed to practically every kind of outdoor environmental condition. Most importantly, the labels' designs need to accurately communicate TT Technologies' critical safety information. But just as critical is the need to survive the equipment's harsh environment of use. The long and the short of it is that it's no good having a well-designed safety label if it's abraded away or falls off. "Working with Clarion Safety has made our life much easier," says TT's safety director Kevin P. Nagle. "In Clarion Safety we have an excellent resource to aid our in-house hazard analysis team. Initially, I thought it might be difficult to convey our custom label needs to an outside supplier. That's not the case with Clarion Safety. Their design team has proven that they can take our hand sketches and turn them into top quality safety labels that meet our unique durability requirements."
---
Flash Code
TVA is the nation's largest public power company, delivering electricity to more than 8.7 million residents in the Tennessee River Valley. Clarion Safety is TVA's vendor of choice for its many visual safety communication needs, including the safety labels for a large arc flash electrical safety program. To keep workers safe in areas of facilities that have potential arc flash hazards, Clarion Safety's NEC/NFPA code compliant labels contain critical electrical specifications and personal protective equipment information. Each label is tailored to meet the needs of a specific area. "Clarion Safety's experience-based knowledge of the code and expert customer support allowed us to successfully provide accurate, on-time delivery of this massive order for custom-designed arc flash warning labels," TVA reports.
---
Cell Signs
Verizon Wireless is one of the nation's largest wireless companies. After learning that Clarion Safety helped develop both the U.S. and international safety sign standards, Verizon approached Clarion Safety to develop serialized identification signage for all its cellular tower locations throughout its nationwide network. Every sign design has standard and customized content components, making each unique. Not a problem for Clarion Safety's state-of-the art digital design and production capabilities. As Verizon continues to expand its network and facilities across the continent, Clarion Safety signs are accurately conveying necessary safety and regulatory information at each location.
---
A Truly Great Massage
Sidmar Manufacturing is a Minnesota maker of hydromassage tables approved for massage therapy, medical rehabilitation clinics and for home use, both in the U.S. and Canada. To market its products internationally, Sidmar needed to meet Underwriters Laboratories (UL®) and the Canadian Standards Association (CSA) testing standards. "Not so easily done," says Sidmar's president, Joe Holland. "My problems began when both UL® and CSA ordered that our tables be properly marked with safety warnings. Neither offered suggestions as to what the labels should look like. An internet search yielded lots of information but no real guidance on graphics, language, color standards, label materials or adhesion requirements. I was at a loss until I found Clarion Safety online, called the company, and e-mailed them the ideas I had for designs. The same day I received a critique on wording, corrections on layout and suggestions concerning the use of symbols. A day or two later I had a new set of warning labels, code compliant across borders and translated into French for Canadian use. Believe me, if you need guidance and hands on help with code compliance, you won't go wrong with Clarion Safety!"
---