Welcome AFIA Members!
Clarion Safety Systems and the American Feed Industry Association (AFIA) are proud to partner together to drive safety performance to a new level of compliance and risk reduction. Effective warning labels and safety signs are critical in your industry where interaction between people and machinery is frequent, making the potential for injury possible. Clarion is an industry leader in creating systems of visual safety for today's machinery, equipment and facilities – bringing expert knowledge of the latest standards, practical experience and industry leadership.
For Equipment Manufacturers
AFIA has partnered with Clarion to create state-of-the-art safety labels specifically designed for feed and grain equipment manufacturers – and with special member pricing. Labels in the AFIA/Clarion safety label program use today's best practice ANSI and ISO standards, conveying specific content for common potential industry hazards. Clarion also offers easy customization services, including translations in over 30 languages, to meet additional needs.
+ Resources for Equipment Manufacturers
• AFIA/Clarion Safety Label Program Catalog [PDF]: your order can be placed through the order form in the catalog or by registering on our website.
• Safety Label Guidance Document [PDF]: AFIA's Equipment Manufacturer Committee's guide to help with specific product placement.
An old-style AFIA label (at left) and Clarion's updated, best practice version (at right)
For Facilities/Production Compliance Members
Safety signs and equipment labels in your production facility play a vital role in maintaining a safe workplace and minimizing workplace accidents. For AFIA members, Clarion offers special pricing on our OSHA/ANSI Z535-compliant safety sign product line, as well as a 5 pack label program – featuring the labels in our AFIA/Clarion program but with lower minimum order quantities to better meet your needs for equipment within your facility. By incorporating the most advanced symbols, color-coding and formatting principles into our products, you can be confident that your Clarion safety sign and safety label systems are state-of-the-art. What's more, having uniformity between the safety signs in your facility and labels on your products has an important benefit: consistency. When it comes to warnings, consistency means familiarity and increased comprehension, all of which are part of effective safety communication.
+ Resources for Facilities
• Facility Safety Sign Online Catalog: browse our catalog of best practice safety sign systems, and place an order by registering on our website.
• AFIA/Clarion 5 Pack Safety Label Program Catalog [PDF]: your order can be placed through the order form in the catalog or by registering on our website.
An old-style safety sign (at left) and Clarion's best practice version (at right)
ANSI STANDARDS
Watch our short video to see how the ANSI Z535 standards use colors and signal words to convey severity levels on safety signs and safety labels.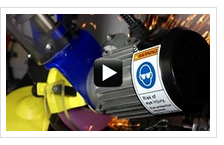 BEST PRACTICE SIGNS & LABELS
There's a science to how signs and symbols communicate, and it can make a difference in crafting effective warnings.