[

Safety Services Designed to Fit
Your Needs
Take advantage of our exclusive services, designed to meet your product and ordering needs. Don't see the service that you're looking for? We're listening – contact us today!
What does Clarion Safety have to offer? View the full scope of our solutions and services.
Machinery Safety and Risk Assessment Services
Safety and risk reduction are top concerns for today's product manufacturers. Our Clarion Safety Assessment team is here to help identify, remedy and prevent issues in your product safety strategy. We offer machine risk assessments, warnings and label reviews, product safety consulting, CE/UKCA/UKNI marking compliance, machinery manual audits and design, safeguarding audits, and custom training.
Learn More

Take your product to the next level with our digital safety and management solution, ClarionAccess®. It provides one central location for all product information, available instantly to your end users by scanning a QR code label on your product.
Learn More
Custom Label & Signs
"Close enough" isn't good enough when it comes to communicating safety messages. We can help you precisely define potential hazards, meeting nearly any custom need – from size to format to material.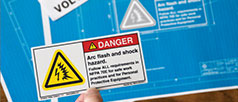 Label & Sign Assessments
Unsure if your safety labels are up-to-date? Our experts can work with you to assess them, ensuring that they meet today's requirements and best practices.
Label Consolidation
We can help OEMs unlock a range of label optimization opportunities personalized to your business – from better safety communication, use of less labels, and simplified ordering/inventory management – all of which can result in tangible cost-savings as well as risk reduction.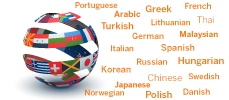 Label & Sign Translation
Multilingual safety labels and signs are the right choice for many product manufacturers and workplaces. Easily and precisely translate your message with our expertise.
Label & Sign Kits
A customer favorite! We can produce kits for added efficiency and safety, where all the labels or signs needed for a specific product or facility location arrive as one complete package.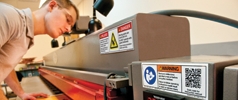 Rush Order
Need your order as soon as possible? Not a problem! For your convenience, we offer the option to 'fast track' your purchase – an expedited option that typically provides a 24-hour turnaround time.
Quote Request
Need a quote for one of our safety sign or label products? Now you can easily submit your request online!
Purchase Order Submission
For your convenience, you can send us your purchase order online. It's simple – just upload a file or enter your order details!
Credit Application
Use our confidential and secure online application form to set up payment terms to be applied to your future orders.